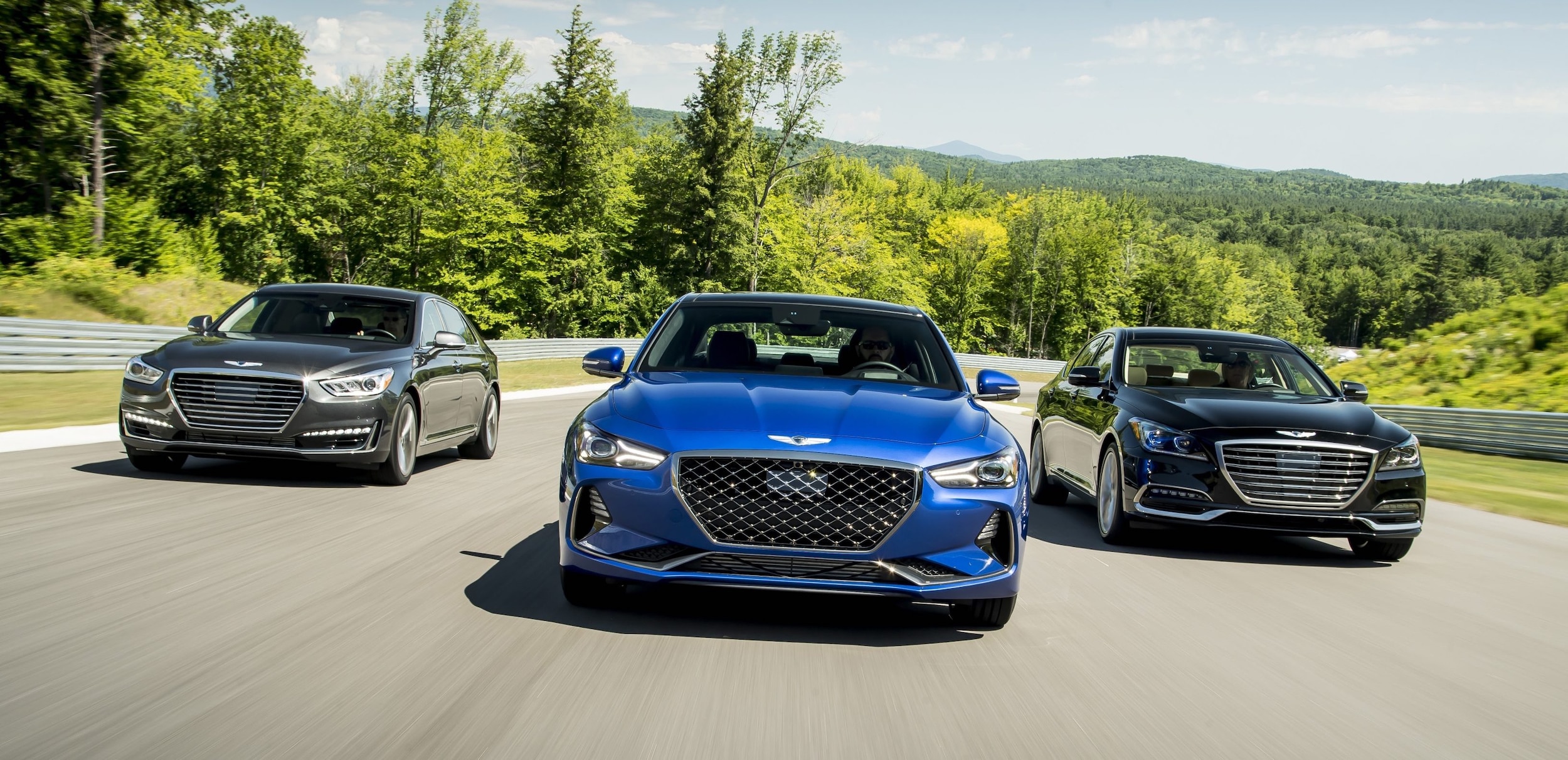 Hyundai has come a long way from manufacturing affordable cars like the Excel to designing recognizable luxury vehicles like the Genesis and the Equus. After its initial foray into the luxury car market, consumer demand has led Hyundai Motor Group to create its own luxury vehicle division branded Genesis Motor. Since the launch of the original Hyundai Genesis in 2008, Hyundai has made good on its transformative business strategies and promises to further improve what is already an outstanding brand.
The 2012 Model Year Update
The first Genesis generation was already impressive to discerning luxury car fanatics with an eye for both, excellent comfort and sporty performance. The 2012 Genesis upgrade has added a host of new options and fixes. Technological advances include an optional eight-inch touchscreen display with navigation and an enhanced multi-media controller and Driver Information System. Several engine options were added: the 3.8-liter V6 in three equipment configurations, the 4.6-liter V8 engine, and a 5.0-liter V8 engine now exclusive to R-Spec model. The transmission was improved from the previously standard 6-speed automatic and changed to an 8-speed automatic.  Beyond this, changes were made to the rear stabilizer as well as shock and spring rates, resulting in a smoother ride.
There continues to be a significant inventory available of first-generation Genesis releases with low mileage and attractive prices; this speaks to the reliability and longevity of the Genesis brand. No matter what model of Genesis you're looking for, there are amazing deals still waiting to be found. Finding the R-Spec upgrade is especially thrilling for lovers of classic car styling, power, and luxury, all at an affordable price. While bargain hunters need not scour the Internet for the very best values; at Genesis of South Brunswick we have an extensive inventory at prices a fraction of the original cost.
Genesis: The Second Generation
The second Genesis generation launched in 2015, marking a direct vertical upgrade from the predecessor. The redesigned body's elegant aesthetics not only match, but supersede the first generation's performance. The Genesis has continued forward with Hyundai's preexisting commitment to a luxurious interior, with the manufacturer affording the driver a much more richly appointed and comfortable cabin. 
To achieve such greatness, the 2015 Genesis did have the advantage of support from a collaborative all-star cast. Headed by Manfred Fitzgerald, former director of brand and design at Lamborghini, and executive vice president; Genesis is poised for an even bigger leap into the future. Peter Schreyer, formerly of Volkswagen and principal designer of the VW Golf, New Beetle, and the Audi TT, is a president and heads design management. Albert Biermann, former head of BMW M performance division, oversees tuning and performance in his role as executive vice president of performance development and high-performance vehicles. Sang-yup Lee, former designer of the C-6 Chevrolet Corvette and Bentley Continental GT, and Alexander (Sasha) Selipanov, former designer of the Bugatti Chiron, lead exterior and advanced design.
Genesis of South Brunswick is the place for you and your family to find a quality car at an affordable price. We have a dedicated and passionate sales staff that caters specifically to the luxury segment of Hyundai's fan base. Genesis of South Brunswick is exceptionally driven to provide positive customer service experiences and our staff is uniquely qualified to provide all the services available to our customers.
What Lies Ahead for Genesis?
By 2020, a sports coupe and two crossovers are expected, bringing the total number of Genesis models to six. Hyundai Motor Group is continuing to plan for the future of the Genesis brand. Speaking to Automotive News, Hyundai Motor America Chief Operating Officer Brian Smith explained the current state of affairs at Genesis.
While planning its separation from Hyundai, Genesis quickly discovered that in order to birth standalone stores, it would take some time to comply with the varying state franchise guidelines. The Genesis brand dealers had to apply in each state as a marque separate from Hyundai and then chosen dealers (such as Genesis of South Brunswick) in select markets had to seek out a license to sell 2019 Genesis models. As per TheTruthAboutCars.com, by the end of the year, Genesis expects 100 to 200 dealers will have G70s in stock. This newly improved sales network will give the Genesis brand an even better foothold into the future.